Emerald Ash Borer Survey: 2007 - 2014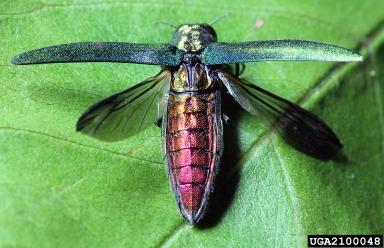 The emerald ash borer (EAB) is indigenous to Asia and is known to occur in China, Korea, Japan, Mongolia, the Russian Far East and Taiwan. Where it has been found in the United States, it has killed white ash(Fraxinus americana), green ash (F. pennsylvanica), and black ash (F. nigra), as well as several horticultural varieties of ash.  The insect kills ash trees by destroying the tree's water and nutrient conducting vessels. EAB is so aggressive that ash trees may die within two to three years after they become infested with the beetle.  Since its discovery near Detroit, Michigan in 2002, more than 15 million ash trees have been killed.  This beetle has also been detected in Ohio, Indiana, Virginia, Maryland, and Ontario, Canada. 
Ash trees are a major component of the landscape in Kentucky, so this pest is of particular concern both because of the prevalence of ash trees in urban and suburban areas and because lumber and wood products are among Kentucky's top export products.  Kentucky could lose billions of dollars in forest products, and quarantines imposed by state and federal agencies could severely affect plant and wood products industries.
In October of 2006, 2-3 ash trees (> 6 inches in diameter) were prepared as trap trees by girdling them at chest height.  A band of plastic wrap was placed above and below the girdled area.  This plastic wrap was coated with tack-trap.  Wounded trees give off volatiles that are attractive to emerald ash borer which will then be trapped on the sticky bands.  The girdled trees were located in campground areas of state parks. Sticky bands were inspected every 1-2 weeks from May to September in 2007.  
From 2008-2013, our office participated in a national Emerald Ash Borer survey using a trap and lure system.  These traps were placed across the state as outlined by the USDA survey protocol.
IThe entire Commonwealth of Kentucky was placed under a federal quarantine by the USDA in April 2014 (replacing the previous state quarantines of certain counties).  States that fall under the federal quarantine do not participate in the survey.  The U.S. Forest Service conducted a survey with 20 purple traps and some other infestations were detected when EAB larvae and pupae were discovered.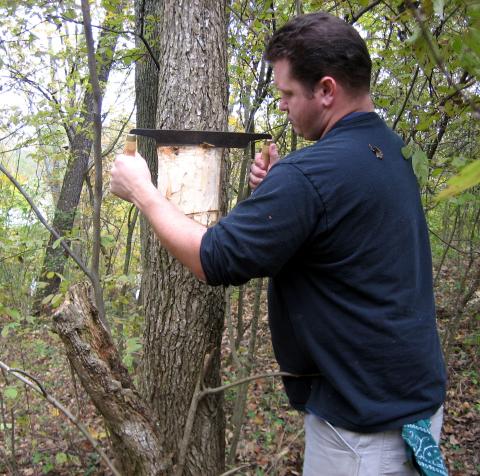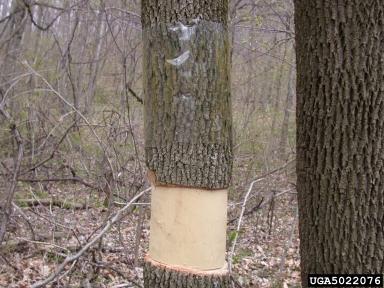 2007
Number of Trap Trees Set: 12
Number of Beetles Captured: 0
Number of  Counties Surveyed: 6
Counties Surveyed:  Boone, Bracken, Carroll, Clark, Nelson, Pulaski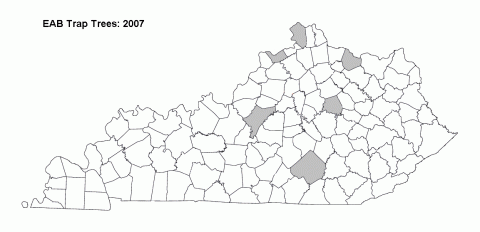 2008
Number of Traps Set: 3065
Number of Beetles Captured: 0
Number of Counties Surveyed: 54
2009
Number of Traps Set: 5665
Number of Traps with Beetles:  77
Number of Beetles Captured in Traps: 201
Number of Counties Surveyed: 84
Number of Positive Counties:  10
Positive Counties (Number of Beetles in Parentheses):  Campbell (10), Franklin (30), Greenup (8), Henry (33), Jefferson (5), Jessamine (7), Kenton (12), Oldham (12), Owen (3), Shelby (81)
2010
Number of Traps Set: 6000
Number of Traps with Beetles:  25
Number of Beetles Captured in Traps: 182
Number of Counties Surveyed: 71
Number of Positive Counties:  9
Positive Counties (Number of Beetles in Parentheses):  Boone (3), Boyd (1), Fayette (14), Franklin (2), Greenup (138), Jefferson (13), Jessamine (7), Shelby (3), Woodford (1)
2011
Number of Traps Set: 6825
Number of Traps with Beetles:  51
Number of Beetles Captured in Traps: 219
Number of Counties Surveyed: 93
Number of Positive Counties:  11
Positive Counties (Number of Beetles in Parentheses):  Anderson (29), Boyd (54), Boyle (17), Bracken (3), Fayette (36), Garrard (2), Greenup (48), Hardin (1), Jefferson (2), Jessamine (26), Scott (1)
2012
Number of Traps Set: 1583
Number of Traps with Beetles:  4
Number of Beetles Captured in Traps: 24
Number of Counties Surveyed: 70
Number of Positive Counties:  1
Positive Counties (Number of Beetles in Parentheses):  Pike (24)
2013
Number of Traps Set: 967
Number of Traps with Beetles:  5
Number of Beetles Captured in Traps: 47
Number of Counties Surveyed: 62
Number of Positive Counties:  6
Positive Counties (Number of Beetles and Method of Detection in Parentheses):  Bell (1 adult on purple trap), Bourbon (24 adults on purple trap), Carroll (4 pupae found in tree), Pendleton (1 larva found in tree), Rockcastle (1 adult on purple trap), Whitley (2 larvae found in tree, 21 adults on 2 traps [4 on one, 17 on the other]
2014
Number of Traps Set: 20
Number of Traps with Beetles:  10
Number of Beetles Captured in Traps: 131
Number of Counties Surveyed: 9
Number of Positive Counties:  6
Positive Counties (Number of Beetles and Method of Detection in Parentheses):  Bath (1 adult on purple trap), Harrison (pupae detected), Johnson (larvae detected), Laurel (2 adults on purple trap), McCreary (69 adults on purple trap), Pulaski (3 adults on purple trap), Rowan (40 adults on 2 traps [7 on one, 24 on the other]), Spencer (1 adult captured in funnel trap), Trimble (flying adults identified in the field), Whitley (16 adults on 4 traps [2, 3, 6, and 5 captures])
---
EAB Traps Set: 2008

EAB Traps Set: 2009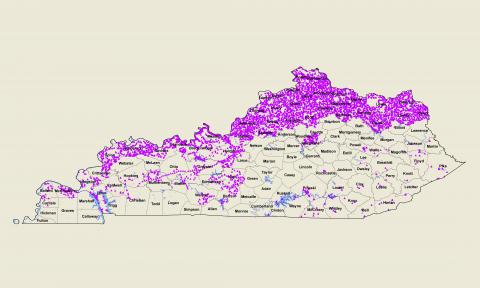 EAB Traps Set: 2010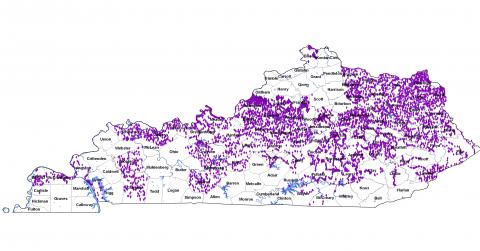 EAB Traps Set: 2011