Thousand Cankers Disease Survey: 2011 - 2017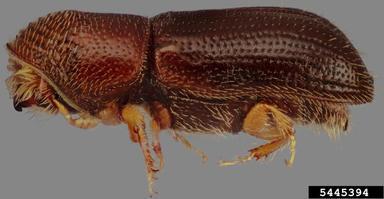 In 2008, black walnut mortality in Colorado was identified as being caused by cankers that were associated with insect galleries.  This disease complex is now known as Thousand Cankers Disease (TCD) and has a fungal component,Geosmithia morbida, and an insect component which is the walnut twig beetle (WTB), Pityophthorus juglandis.  Several other states have seen walnut mortality associated with this disease including California, Oregon, Washington, Idaho, Utah, Arizona, and New Mexico.  In July 2010, TCD was reported in Knoxville, Tennessee, causing dieback on black walnut.  As a leading producer of black walnut lumber in the country, this disease is of great concern to Kentucky.
In 2011, we traveled the state, identified walnut trees, and examined them for symptoms of TCD (yellowing leaves in the crown, symptoms worse on west and south sides of tree, browning leaves attached to twigs, limbs dying back, sprouts growing from tree roots, etc).   If we observed symptoms, we collected limbs and examined them for pin-sized, round holes and peeled off the bark to look for dark cankers and beetle galleries.  If we had observed these symptoms, we would have collected several branches from the tree, wrapped them in paper towels or newspaper, placed them in Ziploc bags, and taken them to the University of Kentucky for initial screening for Geosmithia morbida and the walnut twig beetle.  We did not detect the presence of thousand cankers disease or the walnut twig beetle in our survey in 2011. 
In 2012, the USDA approved a trap/lure combination to be used for trapping the walnut twig beetle; therefore, beginning in 2012 we established survey sites using these traps in an attempt to detect the beetle that causes this disease.  Thanks to the survey activities in 2011, we had a good idea about where to place the traps.  Every year since 2012, we set Lindgren funnel traps baited with a walnut twig beetle lure to detect any walnut twig beetles in the area. In 2015, a new method using baited walnut bolts was determined to be effective and we used this technique in 5 sites in 3 counties. The technique involves cutting a small bolt off of a walnut tree, attaching walnut twig beetle lure to the bolt, then hanging the bolt in the tree to check at a later time for beetle infestation. We never found walnut twig beetle in Kentucky and 2017 was the last year of survey funding.
The Kentucky Division of Forestry conducted surveys as well and also did not detect the presence of thousand cankers disease or the walnut twig beetle.
Year
Survey Activity
Map
2017
26 WTB traps in 15 counties

2016
25 WTB traps in 12 counties

2015

26 WTB traps in 12 counties

5 baited walnut bolts in 3 counties

2014
19 WTB traps in 12 counties

2013
19 WTB traps in 12 counties

2012
29 WTB traps in 13 counties

2011
1,867 walnut trees in 19 counties visually examined (before approved trap/lure)