Exotic Siricid Survey: 2008 - 2010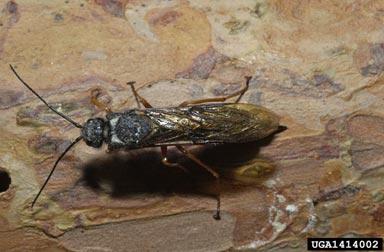 In its native range, Sirex noctilio attacks pines almost exclusively, e.g., Scotch (Pinus sylvestris), Austrian (P. nigra), and maritime(P. pinaster) pines. This woodwasp was introduced inadvertently into New Zealand, Australia, Uruguay, Argentina, Brazil, Chile, and South Africa. In these Southern Hemisphere countries, Sirex woodwasp attacks exotic pine plantations, and it has caused up to 80 percent tree mortality. Most of the plantations are planted with North American pine species.
Recent detections of siricids outside of port areas in the United States have raised concerns because these insects have the potential to cause significant mortality of pines. Awareness of the symptoms and signs of a siricid infestation increases the chance of early detection, and thus, the rapid response needed to contain and manage this exotic forest pest.
In 2008 and 2009, we set traps at the Cincinnati/Northern Kentucky International Airport from May to the end of September.  We used IPM Tech intercept panel traps with lures consisting of (75% + enantiomer)-alpha-pinene (70%) and beta-pinene (30%).  Trap collections were made once every two weeks. In 2020, we expanded the survey to other sites. Taxonomic support for this survey was provided by the Department of Entomology at the University of Kentucky. No exotic siricids were found.
| | | |
| --- | --- | --- |
| Year | Survey Activity | Map |
| 2010 | 28 traps in 11 counties | |
| 2009 | 4 traps near the NKY airport | |
| 2008 | 4 traps near the NKY airport | |