Plum Fruit Moth Survey: 2005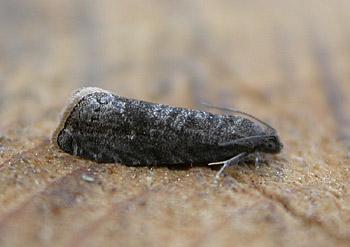 Plum fruit moth attacks fruit of plum, cherry, apple, peach, apricot, pear, and walnut (USDA/APHIS/PPQ Pest Detection Manual). The damage caused by first generation caterpillars often passes unnoticed, the dropping of the fruit being mistaken for physiological drop (unfertilized fruit for example). The second generation caterpillars cause serious losses in semi-late and late fruit varieties. The caterpillar penetrates very rapidly into the fruit near the base of the peduncle. At the end of its growth, it abandons the fruit and pupates (first generation) or spins a hibernation cocoon under a shelter on the surface of the ground or under the bark (second generation). The attacked fruit takes on a dark coloration, ceases to develop and exudes a few characteristic gummy droplets through the caterpillar's entry hole opening, then drops prematurely. Early varieties are attacked only slightly. 
Wing traps baited with plum fruit moth pheromone blend (95:5 mixture of (Z):(E)-8-Dodecen-l-ol acetate as recommended by Otis Methods Development Center) were set in mid-May in peach and apple orchards across Kentucky. Traps were checked once a week and the lures replaced once a month from mid-May to August. This corresponds to the second generation flight period.
2005
Number of Traps Set: 13
Number of Moths Captured: 0
Number of Counties Included in the Survey: 12
Counties Sampled: Boone, Bourbon, Bullitt, Campbell, Harlan, Logan, Nelson, Owen, Robertson, Trigg, Trimble, Warren