Soybean Rust Survey: 2005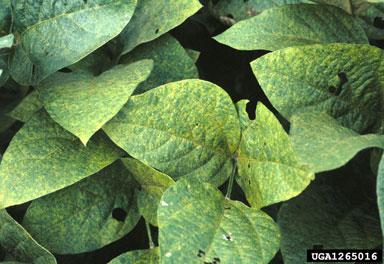 The U.S. Department of Agriculture (USDA) Animal Plant Health Inspection Service (APHIS) has confirmed the presence of Asian soybean rust (ASBR),Phakospora pachyrhizi in Arkansas, Alabama, Florida, Georgia, Louisiana, Mississippi, Missouri, South Carolina, and Tennessee. Soybean rust has been found on both soybean and kudzu in the field. 
The purpose of this project was to detect and monitor the progression of ASBR in the United States. Due to the large amount of acreage in soybean production across the United States, assistance is needed to establish sentinel plots as part of the Soybean Rust Coordinated Framework.
Soybean sentinel plots were planted approximately 2-3 weeks prior to the earliest planting date of commercially-grown soybean in each major production area or region, where possible. Sentinel plots were, when possible, planted near large potential reservoirs of overwintering inoculum sites, including pigeon pea, yam, beets, kudzu and leguminous winter cover crops. Sentinel plots were also planted near or within major soybean production areas. Except for fungicide treatments, plots were maintained in the same manner as commercially-grown soybean crop - irrigation, fertilizer, cultivation, etc.
Creation, maintenance, survey, and data collection in ten plots were handled by two subcontracted companies: Wheattech, Inc. and Miles OptiCrop, which provided all necessary personnel, equipment, and supplies. Sentinel plots were sampled (examined) for ASBR once a week or, when model predictions or observations indicate that ASBR was imminent, every three days. Sentinel plots were maintained for 3 to 4 months from May to August 2005.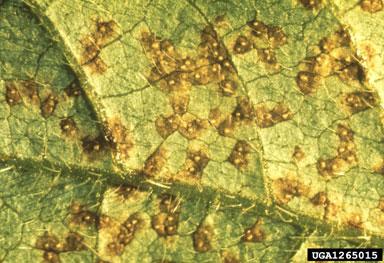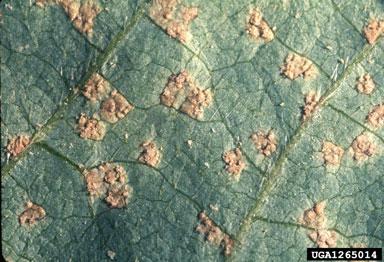 2005
One or more sentinel plots were placed in each of the following ten counties in Kentucky: Allen,  Hancock, Nelson, Ohio, Pulaski, Simpson, Trigg, Union, Warren, and Webster.
One positive find on kudzu was reported from Caldwell County. However, a hard freeze within two to three days of the discovery effectively eradicated the only instance of soybean rust in Kentucky. Data indicating a first record for the state (and hence the county) and a record indicating subsequent eradication were entered into NAPIS.  Caldwell County is shown in red on the map.