Sudden Oak Death Surveys: 2005 - 2022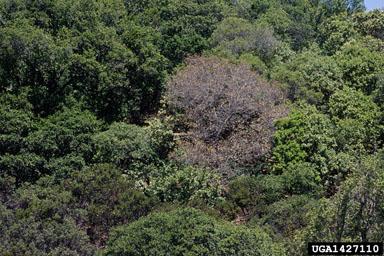 Since 1995, large numbers of oaks and tanoaks have been dying in California. Since then, many other types of plants have been found to be infected or associated with this disease, referred to as sudden oak death, ramorum leaf blight or ramorum dieback, or by regulation as Phytophthora ramorum. Since April 2004, the disease has been confirmed in  numerous West Coast counties. 
Kentucky has been identified as a high risk area for sudden oak death because of the extensive oak forests within the state.  This could have a severe effect on an economy that depends on the revenue generated from the sale of logs and wood products.  Detections in nurseries that ship widely throughout the United States have increased concerns that this disease could appear in other U.S. nurseries and hence move to susceptible species in the surrounding environment. To address these concerns and because of the potential and documented movement of the disease on nursery stock, we surveyed nurseries in Kentucky for the presence of sudden oak death (Phytophthora ramorum) as part of a national survey for this disease.
We inspected high risk genera (Rhododendron, Pieris, Kalmia, Camellia, and Viburnum) for symptoms such as foliar blight and shoot dieback. Samples taken from suspicious plants were processed at the University of Kentucky Plant Pathology Diagnostic Laboratory in Lexington, KY.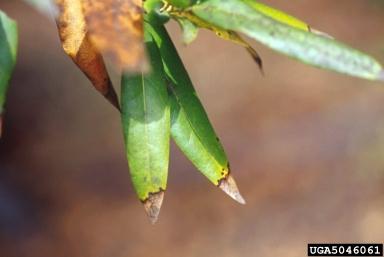 Year

Number of Nurseries 

Number of Trace Forwards

Plants Inspected

Samples Tested

All samples negative

Map
2022

20 nurseries

12 TF

Plants Inspected: 1,372

Samples: 80

TF Samples: 73

2021

20 nurseries

9 TF

 

Plants Inspected: 1,510

Samples: 68

TF Samples: 37

2020

24 nurseries

 

Plants Inspected: 2,282

Samples: 122

2019

25 nurseries

2 TF

Plants Inspected: 944

Samples: 111

2018
30 nurseries

Plants Inspected: 2,290

Samples: 165

Water Bait Samples: 6

2017
24 nurseries

Plants Inspected: 1,625

Samples: 98

Water Bait Samples: 8

2016
30 nurseries

Plants Inspected: 2,177

Samples: 126

Water Bait Samples: 17

2015
30 nurseries

Plants Inspected: 1,658

Samples: 123

Water Bait Samples: 18

2014
31 nurseries

Plants Inspected: 3,015

Samples: 164

Water Bait Samples: 20

2013
35 nurseries

Plants Inspected: 4,738

Samples: 284

Water Bait Samples: 20

2012
50 nurseries

Plants Inspected: 4,985

Samples: 255

Water Bait Samples: 34

2011
20 nurseries

Plants Inspected: 3,602

Samples: 114

2010
40 nurseries

Plants Inspected: 2,470

Samples: 197

Water Bait Samples: 29

2009
20 nurseries

Plants Inspected: 2,349

Samples: 93

2008
20 nurseries

Plants Inspected: 622

Samples: 91

2007

20 nurseries

Samples from 19 additional nurseries

Plants Inspected: 3,057

Samples: 149

2006

21 nurseries

Samples from 14 additional nurseries

Plants Inspected: 10,353

Samples: 190

2005
99 nurseries