Giant Salvinia Survey: 2003 - 2006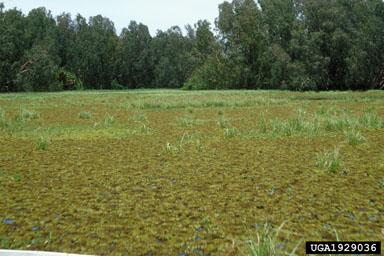 Giant Salvinia (Salvinia molesta) is an aggressive, invasive, exotic aquatic weed listed on the Federal Noxious Weed List. It reproduces vegetatively by fragmentation and rapidly colonizes new areas, forming thick floating mats of vegetation which clog waterways, deplete oxygen, and interfere with navigation, irrigation, and recreational water use. Giant Salvinia constitutes a serious threat to the Southeastern United States. It is known to be present in the aquatic plant trade and has become established in Toledo Bend Reservoir on the Texas/Louisiana border. It has been found in water gardens and artificial ponds in North Carolina and other southern states. A substantial portion of the southern and southeastern U.S. is likely vulnerable to invasion by Giant Salvinia. 
Giant Salvinia is an aggressive colonizer of lakes, ponds, swamps, and slow-moving streams. Under favorable conditions it can double its biomass in 2.2 days. Plant fragmentation, dispersed by wind and wave action, leads to rapid movement and expansion once a population becomes established. Most of Kentucky's many recreational areas and state parks feature large bodies of water used for recreational boating and fishing. If Giant Salvinia were to become established, millions of dollars in tourism and recreation would be lost to the state and private owners. In addition, many of Kentucky's cities depend on reservoirs, lakes, and/or rivers such as the Ohio and Kentucky Rivers for drinking water. The cost of processing and water treatment would be heavily impacted if Giant Salvinia were to become established in these bodies of water. 
 
2003-2006
Visual survey from a john boat moving close to the shore is the method used in Giant Salvinia surveys.  In 2003, we concentrated on all of Kentucky's Lake Cumberland shoreline areas. In 2004, we surveyed a number of smaller lakes: Herrington Lake (Mercer and Garrard Co.), Barren River Lake (Allen and Barren Co.), Dale Hollow Lake (Clinton and Cumberland Co.), and Taylorsville Lake (Spencer Co.).  In 2005, we concentrated on the two lakes that make up the Land Between the Lakes Recreational Area in western Kentucky. In 2006, we surveyed Laurel Lake in southern Kentucky and Green River Lake in central Kentucky.  Giant Salvinia has never been found in the state of Kentucky.