Exotic Bark Beetle Surveys: 2005 - 2010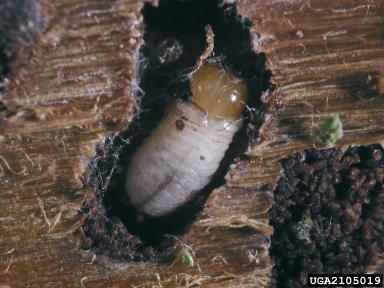 Approximately 50% of Kentucky's land area is in a commercial forest with PPQ/State certifying about 3,000 loads (approx. 12,000 board feet per load) of lumber for export per year.  Much more goes for domestic use.  All wood borers are of concern to the industry, State Forestry Department and the U.S. Forest Service.
Lindgren funnel traps were set to capture exotic bark beetles in high-risk locations throughout the state, including barge ports along the Ohio River, container and cargo receiving yards, and used pallet warehouses. 
Beetles of concern include those in the families Cerambycidae and Scolytidae. The same species were targeted each year: European Spruce Bark Beetle (Ips typographus), Red-Haired Pine Bark Beetle (Hylurgus ligniperda), Six-Toothed Bark Beetle (Ips sexdentatus), Mediterranean Pine Engraver Beetle (Orthotomicus erosus), and Spruce Wood Engraver (Pityogenes chalcographus).
| | | |
| --- | --- | --- |
| Year | Survey Activity | Map |
| 2010 | 50 traps set in 20 counties | |
| 2009 | 29 traps set in 20 counties | |
| 2008 | 28 traps set in 19 counties | |
| 2007 | 31 traps set in 19 counties | |
| 2006 | 31 traps set in 20 counties | |
| 2005 | 13 traps set in 10 counties | |