Spongy Moth (formerly Gypsy Moth) Surveys: 2005 - 2022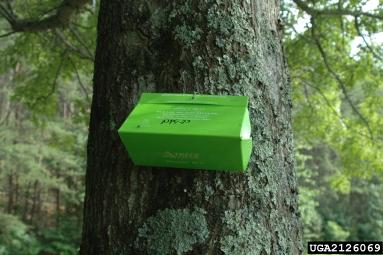 The gypsy moth has recently (2021/2022) been officially renamed the spongy moth. Kentucky is nearly surrounded by regulated, infested areas in Virginia, West Virginia, Ohio, Indiana and Tennessee. From 2000-2002, West Virginia experienced record defoliations in which over 1 million acres were affected.  The possibility of spongy moth spread to Kentucky is very high due to the popularity of Kentucky's recreational areas and the number of people moving into the metropolitan areas from the northeast. We have been surveying for this pest since 1983 and will continue monitoring due to the close proximity of spongy moth present in states surrounding Kentucky on all sides.  This extensive trapping program pinpoints potential problems so they may be quickly eradicated before they become infestations that require the expenditure of large amounts of time and money to eradicate.
Triangular delta traps are baited with a synthetic female sex pheromone to attract and capture male spongy moths every year.  Detection traps are set throughout the state, covering as much of the state as funding will allow, in order to detect moths.  Delimiting traps are extra traps set in an area which previously had several moth captures.  Slow the Spread is a program that gives funding to states to intensively trap along the leading edge of the zone which is generally infested with spongy moth to detect populations and allow for quick eradication. 
The graph below shows numbers of moths captured each year during survey activities.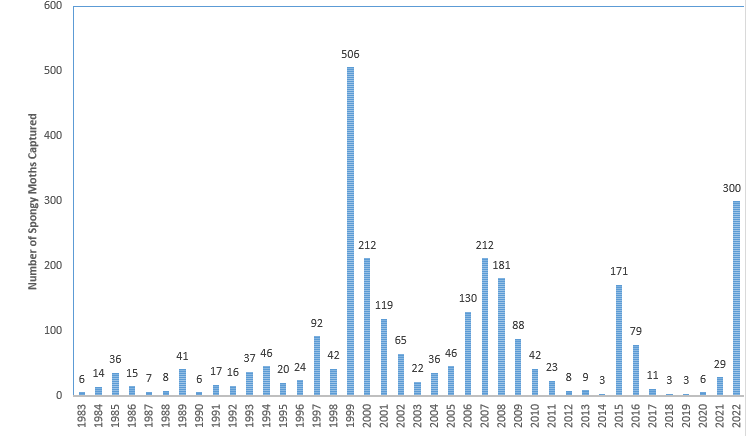 Year
Traps Set
Moths Captured
Map with Moth Captures
2022
 
 
 
2021

Detection: 4,849

STS: 484

STS Delimiting: 6

USDA: 152

Detection: 15 in 10 counties

STS: 14 in 4 counties

USDA: 0

2020

Detection: 4,659

STS: 733

USDA: 153

Detection: 2 in 2 counties

STS: 3 in 1 county

USDA: 1 in 1 county

2019

Detection: 4,308

Delimiting: 4

STS: 661

STS Delimiting: 18

Detection: 3 in 2 counties

STS: 0

2018

Detection: 5,619

STS: 596

Detection: 2 in 2 counties

STS: 1 in 1 county

2017

Detection: 7,408

STS: 602

STS Delimiting: 19

Detection: 10 in 9 counties

STS: 1 in 1 county

2016

Detection: 7,216

Delimiting: 109

STS: 540

STS Delimiting: 44

Detection: 21 in 16 counties

STS: 58 in 5 counties

2015

Detection: 7,328

Delimiting: 41

STS: 505

STS Delimiting: 9

Detection 84 in 27 counties

STS: 86 in 5 counties

US Forest Service: 1 in 1 county

2014

Detection: 7,065

Delimiting: 12

STS: 546

Detection: 2 in 2 counties

STS: 1 in 1 county

2013
Total traps: 2,634

Detection: 9 in 8 counties

STS: 14 in 4 counties

2012
Total traps: 2,938 
8 in 4 counties

2011
Total traps: 4,602
23 in 5 counties

2010
Total traps: 4,633
42 in 9 counties

2009
Total traps: 7,101
88 in 10 counties

2008
Total traps: 5,373
181 in 22 counties

2007
Total traps: 6,630
212 in 34 counties

2006
Total traps: 7,734
130 in 20 counties

2005
Total traps: 8,830
46 in 12 counties