Pine Shoot Beetle Survey: 2005 - 2020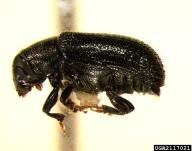 Since the introduction and subsequent establishment of Tomicus piniperda, pine shoot beetle, in states immediately north of Kentucky we have become concerned about the possibility of these foreign bark beetles becoming introduced. Over the past few years, pine shoot beetle has been spreading steadily southward toward Kentucky from Ohio and Indiana. It has been detected in Franklin County in Ohio, i.e. almost at Kentucky's border. The risk from nursery stock received from the north may pose a threat of introduction.
Lindgren funnel traps baited with alpha-pinene (A-pinene) lure were used in these surveys. We placed traps in pine stands and other vulnerable areas across the Ohio River from quarantine areas.  Traps were set in tree farms, roadside areas, forested areas, and commercial nurseries and were checked once every two weeks. 
After many years of surveying for pine shoot beetle, we found our state records during the 2015 trapping season.  Two pine shoot beetles were collected from one trap in Kenton County.  The trap was set on March 11, 2015 and the positive sample was collected on March 26, 2015.  The beetles were initially identified by personnel at Mississippi Entomological Museum and were verified by a USDA identifier on July 9, 2015.
In 2016, two beetles were again captured.  One beetle was captured in the positive Kenton County site from 2015 and one was captured in Lewis County which was a county record.
The USDA deregulated this pest and discontinued survey funding after Fiscal Year 2019/Calendar Year 2020.
| | | | |
| --- | --- | --- | --- |
| Year | Traps Set | Beetles Captured | Map |
| 2020 | 41  | 0 | |
| 2019 | 41 | 0 | |
| 2018 | 40 | 0 | |
| 2016 | 41 | 2 | |
| 2015 | 29 | 2 | |
| 2014 | 39 | 0 | |
| 2013 | 40 | 0 | |
| 2012 | 37 | 0 | |
| 2011 | 37 | 0 | |
| 2010 | 33 | 0 | |
| 2009 | 35 | 0 | |
| 2008 | 34 | 0 | |
| 2007 | 34 | 0 | |
| 2006 | 36 | 0 | |
| 2005 | 31 | 0 | |